EVENT EXPIRED - (Confirmed via n00bs guild forums)
Edit
Stamp Code Rules
Edit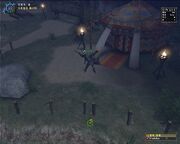 It is vital that you make sure you have room in your storage before trying any of these codes!
Also, you only get 5 attempts when entering the codes. If you get it wrong, you must wait about a day to try again. So be careful!
Free Ioprey Armor
Edit
Enter a channel to begin and head north over the bridge then head east to get to the EX Event tent.
Pick the first choice as shown in the picture.
Talk to the NPC (pick the first option) and jut keep hitting enter till you reach the code entry page.
Done! The armor will appear in your storage box.
Free 10k - 30k Cash Voucher
Edit
Head back to the tent, but this time pick the second option as shown.