MHFO[Kr] WILL HAVE SHUT DOWN BY THE END OF AUG 2011. THANKS TO ALL THOSE WHO MADE THIS WIKI POSSIBLE AND THANKS FOR BEING SUCH BROS.
-Studyguy and the rest of the Highlanders/Rathabros guild
Visit our IRC Channel with Rizon qchat, a web based IRC client.

This link will open your IRC client and join our channel.
Welcome to the main English wiki for the free to play, korean version of Monster Hunter Frontier. We aim to be the largest and most comprehensive wiki for this game.
Foreigners(not necessarily english speakers) play on:
Tab 1 Server 2 Channel 9.
Tab 1 Server 6 Channel 5.
Tab 2 server 4 Channel 5.
You can find us at irc.rizon.net #mhf.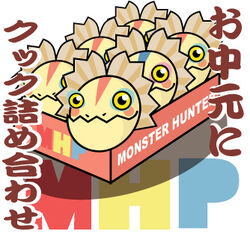 Commonly Accessed Pages
External Pages
Contribute to this wiki
To write a new article, just enter the article title in the box below.
Not sure where to start?