First of all you have to go into the guild, which is on the right side of the lobby when you enter the game
Then is the slightly more complicated part. Just leave the Pugi alone at first and make a beeline for this raggedy felyne over here
Now you're going to want to click on its first option, which is all of the food ingredients you can feed the guild's Pugi. Now the food you feed the Pugi varies by each season, and if your HR is even or odd. Here is a handy little chart that shows you what you need to feed it
Now remember, very important. YOU MUST FEED THE PUGI EACH ITEM IN ORDER OF THE CHART. NO MORE, NO LESS OR ELSE YOU MUST START OVER!
Even HR

Fall




온난기

돼지 전병 x 5

쌀벌레 x 5

돼지 전병 x 1

Winter




한랭기

고대콩 x 15

돼지 전병 x 1

OR

몬스터에그 OR 레드 오일 x 5

돼지 전병 x 5

고집쟁이빵 x 5

돼지 전병 x 1

Breeding




번식기

돼지 전병 x 10

몬스터에그 OR 장고 파 x 5

돼지 전병 x 1

Odd HR

Fall




온난기

돼지 전병 x 10

쌀벌레 x 5

돼지 전병 x 1

Winter




한랭기

돼지 전병 x 15

몬스터에그 OR 장고 파 x 5

돼지 전병 x 1

Breeding




번식기

돼지 전병 x 10

몬스터에그 OR 브레스 와인 x 5

돼지 전병 x 1
Now once you buy your items, to feed your Pugi you walk over to and talk to it. Three options will come up, but you will only need to click on option 2. e.g. FEED ME! Then feed the Pugi in the order of your season and HR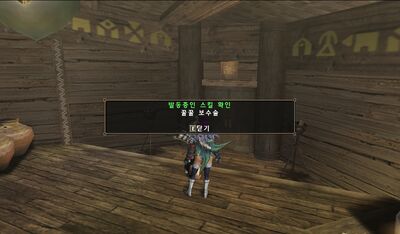 Now you need talk to the Pugi again and go down to Option 3 (Booster) and it should read the text as shown on the screenshot here
Congratulations! You now have a buff from the pugi according to which outfit it is wearing (in this case, a chance to get twice the items you would normally get)! This effect lasts until you log out!
Guide originally by Kitty.
Different Clothing Effects (via n00bs):
• Chef Outfit: Whim (bugnets/pickaxes break less)
• Emperor's Duds [crown]: Discount on furniture
• Sheep Wool: Halves stamina used when dodging or guarding (???)
• Watermelon Suit: Status Attack Up
• Tuxedo: Great Luck
• Pink Wraps: Protection
• Blue/White Stripes: Halves stamina use when running from bosses
• Blue Maid: Halves stamina use when carrying rocks/eggs
• Moss and Ribbons: "Increase the success rate of dispensing items and traps." (???)
• Pirate Outfit: "Increases in the defense force of the attack when a certain probability." (???)

Ad blocker interference detected!
Wikia is a free-to-use site that makes money from advertising. We have a modified experience for viewers using ad blockers

Wikia is not accessible if you've made further modifications. Remove the custom ad blocker rule(s) and the page will load as expected.